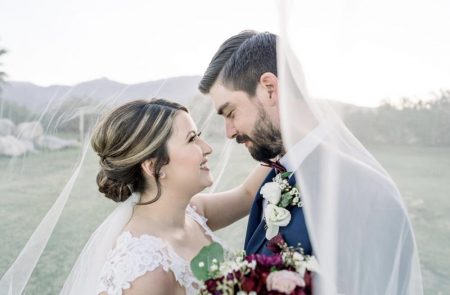 My husband and I met in the unlikeliest of places, Tinder. With COVID everywhere wedding planning was beyond stressful! We went through the phases of debating to do something small to being able to have a safe day with our closest family and friends. We don't want to disclose our venue as we had a falling out with the property manager and would not recommend it to others it did make for a beautiful location. The day was the perfect California weather and gorgeous skies. We were both so excited and nervous all day, we couldn't wait to see each other. As soon as I walked down the aisle, all the stress and worry for the last year planning faded away. Of course the night flew by in a wind of dancing and talking to family and wouldn't have had it any other way! Now if only I can make up excuses to wear my dress at least once a year 😉 Photos by Antonio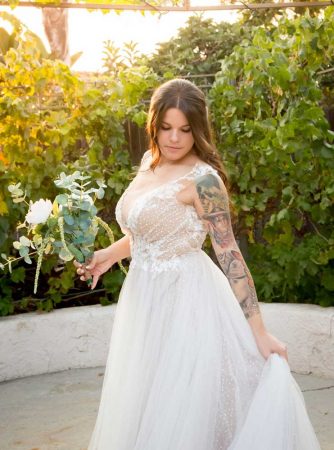 Sarah Heinrich | Wedding Date:  8/22/2020 Our wedding was originally supposed to be massive. All of our friends and family with magical details and an even more magical time. Plans changed, but the only thing that changed was the "big" part. Everything was absolutely perfect and just as magical as I'd hoped it would be, just at a much smaller scale. My dress, however, was as big and beautiful as originally. I was so happy to support Ever After when I first heard of its opening and I'm SO glad it's where I found my dress. Everyone in the store was so sweet and attentive! I always tell my engaged friends to check out this boutique! Thank you again!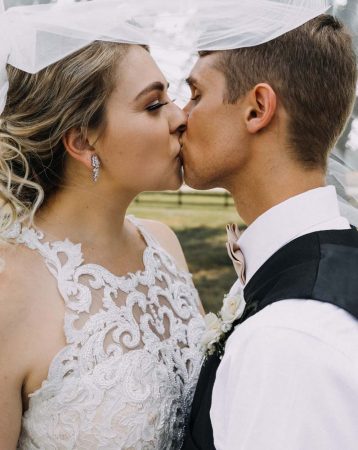 This is going to sound cheesy but the wedding was magical and so much more than my husband and I imagined. I have always looked forward to getting married and having the perfect day. I planned everything and as soon as I started walking down the isle and as soon as I saw my husband non of that mattered all that mattered was being able to marry the love of my life. Everything else was a cherry on top of that moment; the photos, the venue, the dress and veil it all had a factor in making that already perfect moment even more amazing and perfect that I could have ever imagined!